Exhibitor Spotlight: Barntiques Custom Wood & Design, LLC
The Minneapolis Home + Garden Show returns to the Minneapolis Convention Center for five fun-filled days, February 26-March 1, 2020. In addition to inspiring displays and expert presentations, guests can expect to connect with hundreds of home professionals, including the folks at Barntiques Custom Wood & Design, LLC. Before you visit this unique vendor in Booth #437, enjoy our brief interview with representative Dan Hanes below!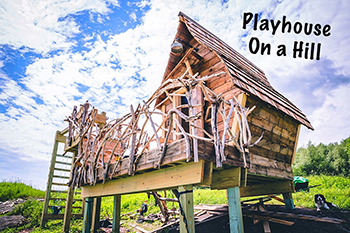 Please describe your products and services.
"We built unique Sheds with a Crooked Roof Design. We are family owned business that loves and salvaged old barns and uses the wood, to remodel walls, tables, Art, sliding and barn doors as well as Garden Sheds, Playhouses, Outhouses, Chicken Coops and Small Bunkhouses."
What are your best home and garden tips for the season?
"Get out early and enjoy every beautiful sunny day that you can."
What are your featured items this season?
"Crooked Creations, our unique sheds that can be used for a lot of things like outhouses, playhouses, garden sheds, and bunkhouses."
What are your home and garden pet peeves?
"When it rains every day for a week and I cant get out and enjoy the summer."
What is the strangest client request you've ever received?
"That story is too long for this space, but the small version was a man from California that wanted to buy our sheds to use as an AirBnB in an area that turned out to be desolate and desert sitting next to an Army Base and his trailer in the middle of a field. Please ask my husband - he loves to tell the story."
What is your favorite part about participating in the Minneapolis Home + Garden Show?
"First time (at the show). Ask me next week!"
Is there anything else you think folks should know about your business?
"This is a husband and wife team, along with their sons that quit their full time jobs to pursue a dream of running their own business. Salvaging old barns was the first step and creating an art that is so much fun and it seems like there is a constant new idea to pursue. We are open to anything people want to create and love the challenge."
Don't miss your chance to shop this unique business! Get your Minneapolis Home + Garden Show tickets today.
Feb 24, 2020, 16:57 PM