Unofficial Kick-Off To Spring
The trees don't yet have buds on them, but everything will be in bloom inside the Minneapolis Convention Center at the Minneapolis Home + Garden Show! And the 2020 show has a new schedule: five days only, February 26-March 1.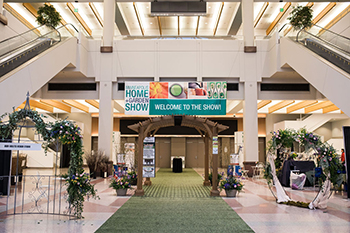 Imagine more than 600 experts in one place, ready to help you with all of your home and garden questions, ideas and inspiration. In addition, there is plenty of great deals and shopping experiences related to home, gardening, remodeling and home decor.
What's new for 2020, you ask? How about an appearance by featured celebrity guest Mike Rowe, creator and host of Dirty Jobs? Mike will be at the show on Saturday, February 29 at 11:30am, talking about his work in debunking the myths and misperceptions about the skilled trades, and how important the trades are to the home improvement industry. Mike's appearance is sponsored by Lennox and Liberty Comfort Systems Heating and Cooling.
Also new to the show is Try a Trade, sponsored by EPS Homes and Hennepin Technical College. This booth will provide hands-on experience in plumbing, woodworking, electrical, HVAC and other trades. The Try a Trade booth was designed by Hennepin Technical College students, and you will be able to talk with a variety of experts to learn about the education process and get your plans in motion!
You're probably familiar with the Idea Home, by EPS Homes. This year the theme is "Forever Home," which is built inside the Convention Center – complete with custom cabinets and innovative built-ins. The Idea Home will show you how to create a happy and healthy environment.
The seven Feature Gardens are a perennial hit every year, and this year's theme is "Gardens Through the Decades". Just imagine the intoxicating scent of all of those trees and flowers as you walk through all the gardens!
The Deck Wars are back! Four local deck companies will demonstrate how to take your deck to the next level! Come see who will win the title of Deck Wars Champion. Sponsored by TimberTech.
The Barking Lot will be a surefire hit - come find products for your furry friends and consider adopting a dog on site via Ruff Start Rescue!
There's a whole lot more to experience and enjoy at the Minneapolis Home + Garden Show. Get your tickets now so you don't miss a thing! And Don't forget about free rides to and from the show thanks to Metro Transit; visit the website to download a pass for February 29 and March 1
Feb 21, 2020, 17:33 PM