2020 Must-See Features
Feb 21, 2020, 17:42 PM
It's safe to say we're all looking for spring and the good news is you can find it at this year's Minneapolis Home + Garden Show. Come for the flowers and stay for the experts!
We'll have over 600 experts just waiting to talk with you about your home and garden projects, challenges and questions. You're sure to find deals galore as well as plenty of helpful resources.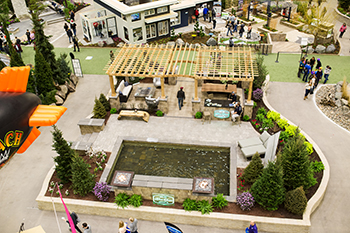 Walking the aisles is important, but here's a list of things you should definitely make time to see at the Show:

The Idea Home
EPS Homes has once again created an incredible real home that awaits your walk-through. With the theme of "Forever Home," you can image the custom cabinets, clever built-ins for more storage, the hottest furniture, accessories, and lighting design – all intended to help you see what living in a forever home could look like.
Feature Gardens
I wouldn't be doing my job if I didn't tell you that you MUST visit the Feature Gardens! Do you peace of mind a favor and walk through these seven uniquely designed spaces, all created with the theme of "Gardens Through the Decades". Some of the individual garden themes within that include a stone age garden with tons of limestone, midcentury modern architecture, waterfalls of the '60s, Old Hollywood, the Renaissance and a look to the future. Intrigued? You must see for yourself!
The Playhouse Challenge
This one is really fun - high school students spent the school year building playhouses in their tech-ed classes and will bring them to the Minneapolis Home + Garden Show to be a part of this fun event. The playhouses will be judged by local industry experts and after the show, each playhouse will be auctioned off to the highest bidder, with proceeds benefitting Habitat for Humanity.
Backyard Lounge
What to do when your feet are barking for a rest? Hit up the backyard lounge for a beverage and a comfortable place to sit. This destination retreat will have a ton of deep seating areas, gas fire dining tables and other outdoor furniture options. Make sure to hit up the Foodie Central area in Hall B to get some Food Truck eats before you get your R&R!
Sounds fun, doesn't it? Come on down to the Convention Center and see for yourself. Get your tickets today! We can't wait to see you and your family at the show, February 26-March 1.