Getting to Know Fixer Upper's Clint Harp
Feb 11, 2019, 17:51 PM
Fixer Upper
fans rejoice! Chip and Joanna's woodwork wizard is coming to the Minneapolis Home + Garden Show! Catch Clint Harp on the Main Stage Friday, March 1st at 3pm and Saturday, March 2nd at 11am and 4:30pm. In the meantime, get to know Clint a little better with our interview below.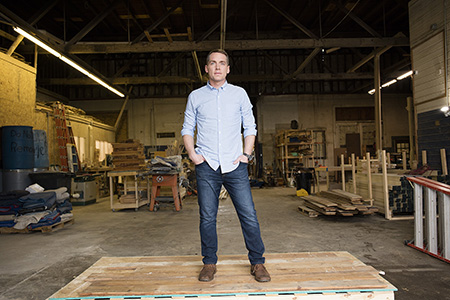 Q: What's an easy DIY project homeowners can tackle to improve their space?
Clint
: "A shelf! Find a cool piece of wood in your garage or in someone else's scrap pile and make a shelf! With some simple brackets from a home improvement store you can make a really fun shelf with very little effort."

Q: What's one thing we wouldn't guess about you?
Clint
: "I'm OCD about washing my hands."
Q: What's a common mistake homeowners make when they take on a home improvement project themselves?
Clint
: "Usually it's underestimating how much time and money it's going to cost…I've done it many times…Best bet is to add 30% on top of whatever you're guessing!"
Q: Where do you go online to find inspiration?
Clint
: "I actually have a weird thing about not looking online for inspiration…I look there for entertainment. My inspiration comes from memories and experiences where I can put my hands on something and see it in real life…a lot gets born from those moments for me."
Q: What's one thing you wish every homeowner knew?
Clint
: "That it's better to spend the money up front and get it done right than to take shortcuts…and if you don't have the money yet…live with what you have until you can afford the real deal."
Q: What are your best small space living hacks?
Clint
: "Put more in the giveaway pile and in the trash can than you do in your house."
Q: What's something that folks should watch out for when working with a contractor or interior designer?
Clint
: "I would say from my own experience I am more in tune with how I feel about working with somebody than anything. So if you give me two guys that can do quality work and one is cheaper but he/she feels wrong to me and the other is a bit more expensive but feels right and like a good person, I'm going with the more expensive person."
Q: What decor items are worth splurging on?
Clint
: "I'm biased but I would say all furniture. Ask around and the things that get handed down from generation to generation are tables and beds and dressers and benches and chairs…spend money on things that last and you will bless generations of people long after you're gone."
Q: Would you rather upgrade your closet, bathroom or kitchen?
Clint
: "I'd rather upgrade my kitchen because we live in it as a family. I need a clean bathroom and an organized closet."
Q: What are your best outdoor decor tips?
Clint
: "If you don't love doing it or have an eye for it…find someone who does and rely on them. Curb appeal is so important, and the beauty and functionality of your backyard can add so much to your life. So I say spend time, effort, and money if you have to, to really make it right…you'll be glad you did."
The Minneapolis Home + Garden Show returns to the Minneapolis Convention Center for two weekends: February 22-24 and March 1-3. You can see Clint during the second weekend of the show (he'll be appearing live March 1 and 2).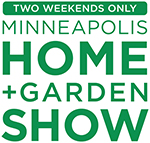 FEBRUARY 22-24 + MARCH 1-3, 2019.
MINNEAPOLIS CONVENTION CENTER