2022 Exhibitor Manual

This document will not be mailed or printed for distribution - please read carefully, as it will answer most if not all of your exhibiting questions. The document and this page will be updated regularly as new information becomes available.
CLICK HERE for the 2022 Home + Garden Show Exhibitor Manual
THE 2023 EXHIBITOR MANUAL COMING SOON
DECORATOR KIT
Show Decorator - Fern Expo
POINT OF CONTACT:
Jessica Mulheron
jmulheron@fernexpo.com
800.774.1251 x1
DATE TBD: Fern Expo will send all booked exhibitors a direct link/email with login information to their ordering system, OneView.
UTILITIES and INTERNET services
Electricity, Water and Cleaning
Minneapolis Convention Center
Exhibitor Services
1301 2nd Ave S
Phone: 612.335.6550 Fax: 612.335.6600
online ordering COMING SOON
Internet Services
Smart City Networks
Phone: 888.446.6911 Fax: 702.943.6001
orders.smartcitynetworks.com/ordering
2023 Move In Map and Schedule Coming Soon
2022 Move In Map and Schedule
NEED A LARGER MAP? Click HERE for a PDF of this map and schedule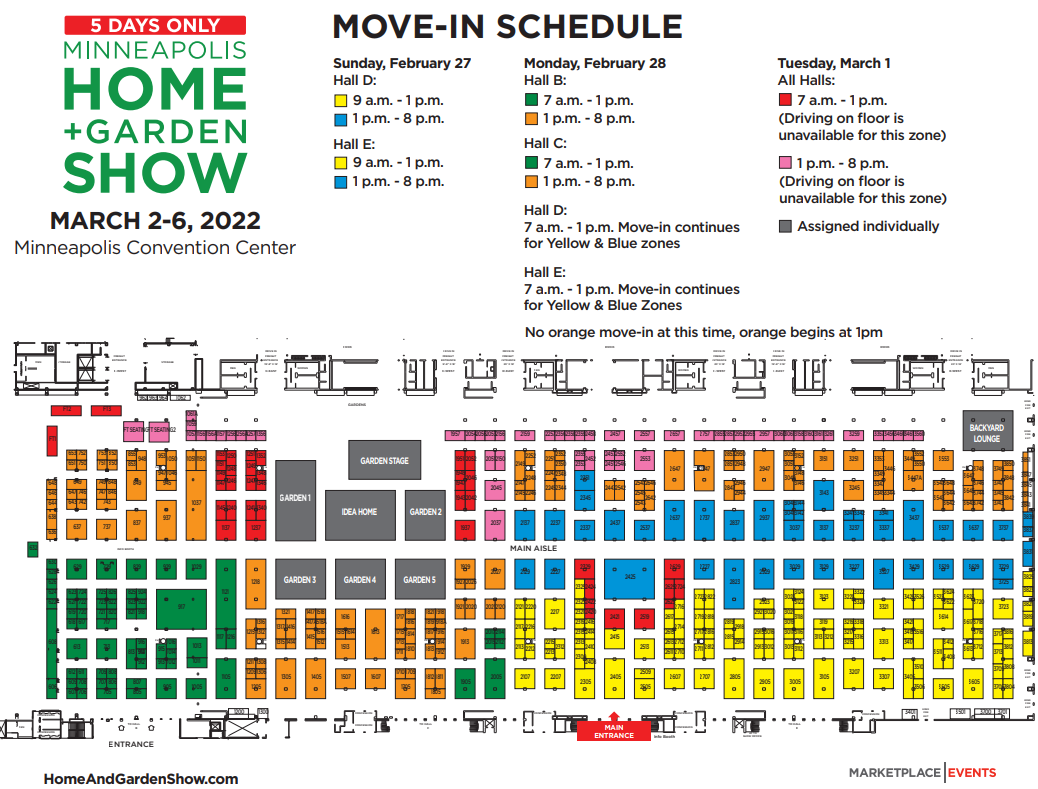 2022 MOVE OUT map and schedule
NEED A LARGER MAP? Click HERE for a PDF of this map and schedule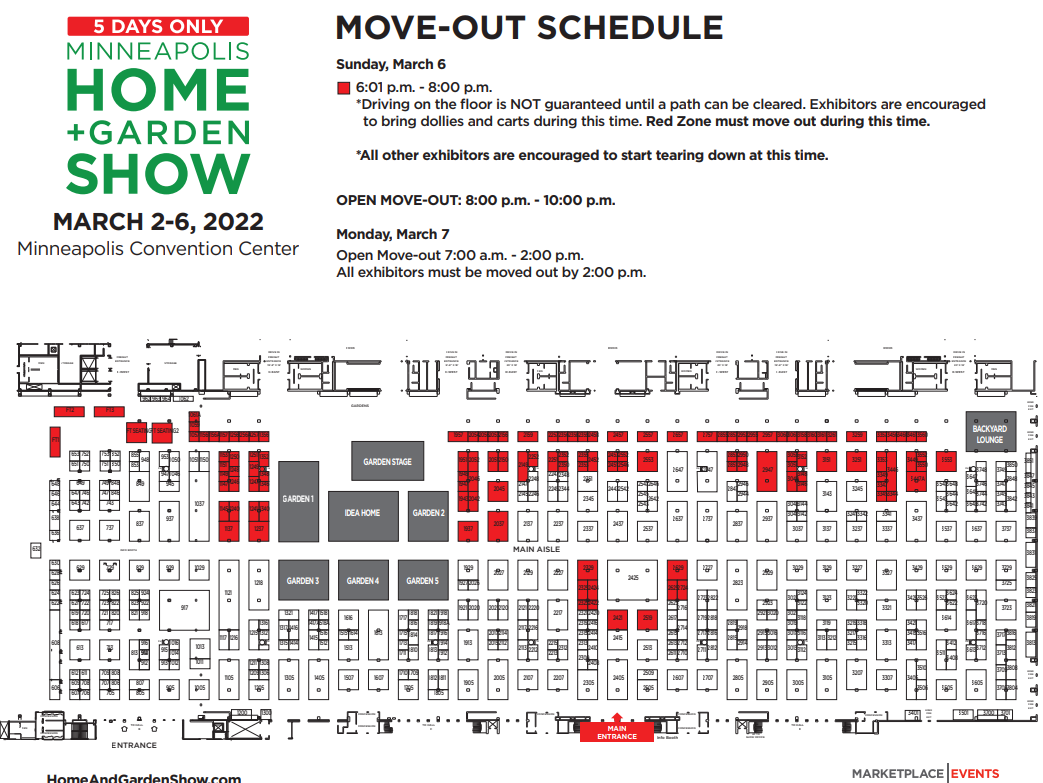 INSURANCE
Our shows have all been set up so exhibitors can apply using this link:
A few things to be aware of:
Exhibitors will have to pick the show from a drop-down list that includes shows other than just those run by MPE.
Marketplace Events is not selling this insurance and does not profit from it in any way. This is simply a resource for those exhibitors who don't already have the required insurance coverage per their contracts. They do not have to purchase this.
The insurance clause is #5 on the Terms and Conditions page of all booth space contracts. For easy reference, exhibitors are required to have:
Comprehensive General Liability and All Risk Property Insurance
Coverage must be from the start of move-in to the end of move-out
Coverage of at least $1,000,000 for each separate occurence
Name Marketplace Events LLC and the venue as additional insured
Provide a copy of the certificate of insurance to MPE
Contact Kendra Reilly Monahan, Buttine Underwriters Purchasing Group, LLC
HOW TO ENHANCE YOUR COMPANY'S ONLINE EXHIBITOR LISTING
Your basic listing will be uploaded to the website when you book your booth. Within 24 hours you will receive an automated email to enhance your listing. This link can be used multiple times and you can make updates and changes to your listing until ONE day after the show commences. If you have any questions regarding the online exhibitor listing or do not receive the link, please email JenK@mpeshows.com.
Need help with your listing?
View the tutorial video - https://youtu.be/ecSxq1oKuYg and the FAQs.
SHOW HOTEL
Hilton Minneapolis
1001 Marquette Avenue
Minneapolis, MN 55403
888-933-5363

The hotel is conveniently connected to the Minneapolis Convention Center by skyways.
CLICK HERE TO BOOK - special rates valid for reservations made before February 1, 2023